Explaining the Data Lakehouse Architecture
Over the past year, the term "Data Lakehouse" has gained a lot of popularity, especially as more clients move their workloads to the cloud. This article will assist in defining a Data Lakehouse architecture and describing how it is currently being used by several businesses.
It's essential to start by defining two of the more widely used terminology, data warehouse and data lake.
Data Warehouse – Is an one central place where you can keep certain, structured data. This data is typically relational and originates from business apps, operational databases, or transactional systems. On a data warehouse, analytics may be performed swiftly and affordably. The trade-off for the speed and cost performance of a data warehouse is typically being trapped into that data warehouse's proprietary formats. You can no longer use a more open solution because your data has been consumed and locked into that warehouse.
Data Lake – A data lake, on the other hand, is a single central location where you may store any type of data you desire – structured, unstructured, or semi-structured. You can do this at scale. AWS S3, Microsoft Azure, and Google Cloud Storage are common data lakes. Because they are so affordable and simple to use, data lakes are immensely popular. You can practically store as much of any type of data as you want for very little money.
Data Lakehouse – Now let's look at the Data Lake vs the Data Lakehouse. The best of both the data warehouse and the data lake have been combined in this new data lakehouse architecture. It can scale like a data lake, is open and flexible, has high price/performance, can handle transactions, and has solid security like a data warehouse.
Data Lakehouse Architecture Explained
Here's an example of a data lakehouse architecture: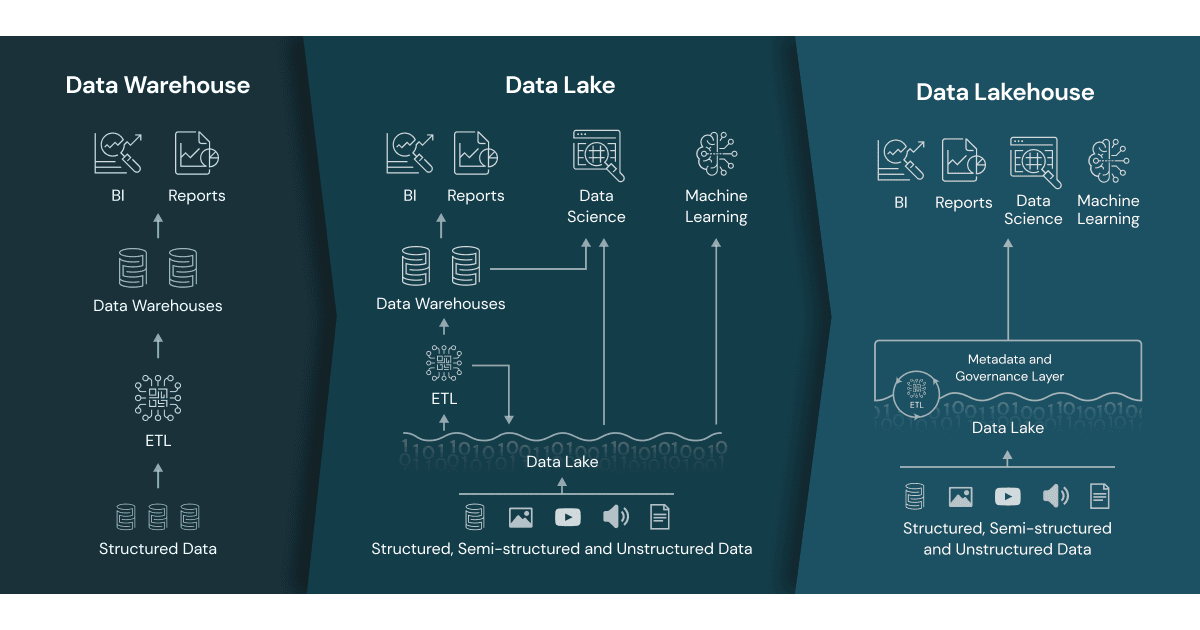 The data processing, catalog & governance layer, and cloud data lake are among the essential elements (SQL query engine). On top of that you can run your BI, ML, Reporting, and Data Science tools.
There are a few key characteristics of the Data Lakehouse. First, it's based on open data formats — think ORC, Parquet. As a result, you are not forced to utilize a proprietary format and can examine your data using an open source query engine. With SQL engines, you can easily query your lakehouse data.
In order to give fine-grained access control to data, it is crucial to add a governance/security layer on top of the data lake.